sk8away
Sk8away: the post-jam update!
---
Hey there sk8ers!
The Black & White Jam 8 is over! Congratulations to all who participated and to the winners, you rock! Here's our results: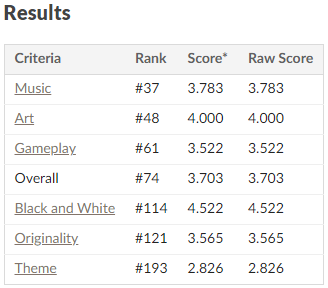 Super stoked to have finished in the top 100 overall! Thank you all who checked out the game and gave it a rate or gave feedback :)


To celebrate, Sk8away has been updated with some sick new features!
new tutorial game mode: learn how to sk8 with a handy tutorial mode teaching you all the moves you need!
handling updates: skater handling has had some minor tweaks; and balancing tricks has been reworked so that manuals and grinds are now progressively harder to balance as your combo gets bigger!
trick freshness: tricks now lose value as you use them more in a combo. keep it fresh with a variety of tricks to keep your score up!
general performance improvements and bugfixes!
Keep on grinding sk8ers <3

CosmicCrystal
Files
sk8away_v1.01_web.zip
Play in browser
Apr 24, 2022
sk8away_v1.01_portable.zip
54 MB
Apr 24, 2022
sk8away_v1.01_installer.exe
67 MB
Apr 24, 2022