Fruit Shack Frenzy [LD42]
NOTE: You can now play the game in your browser! It is a bit buggy, so if you want the best experience download the Windows executable!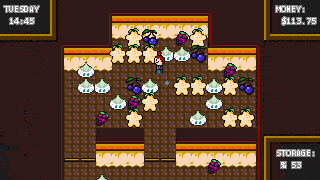 // DESCRIPTION //
Manage a fruit shack in this frantic arcade shop sim!
You will need to fulfill customer orders before they leave, manage your stockroom to avoid over-capacity, and earn as much money as you can before the day ends!
// FEATURES //
Endless arcade fun!
Keyboard and gamepad input!
Pixel perfect resolution scaling!
CRT shader for authentic retro experience!
// CONTROLS //
[ARROWS or LS] TO MOVE
[Z or A] TO PICKUP AND PLACE ITEMS
[X or B] TO DASH
[R or START] TO RESTART DAY
[ESC or SELECT] TO QUIT GAME
// CREDITS //
Design/Programming: CosmicCrystal
Pixel Art: FiveAsOne & CosmicCrystal
Music: amac1990
SFX: phoenix1291
Created for Ludum Dare 42


Install instructions
Download the executable for the best version of the game!